A long time ago in the wild, wild WEST…
There were three men: El doof, El doofer, und der DUMMSTE: LOS BARSTARDOS!
They became the baddest bandits in the Arizona Territory.   Then they started a band.
They were great at riding horses.  They were great at shooting.  But they were bad at music.
...REALLY bad!   They became experts in:
BAD MUSIC FOR BAD PEOPLE.
The sheriff is still looking for them.   He wants to lock them up and throw away the key for being so BAD.
If you see them – DON'T TELL THE SHERIFF.   Or we will have to KILL you!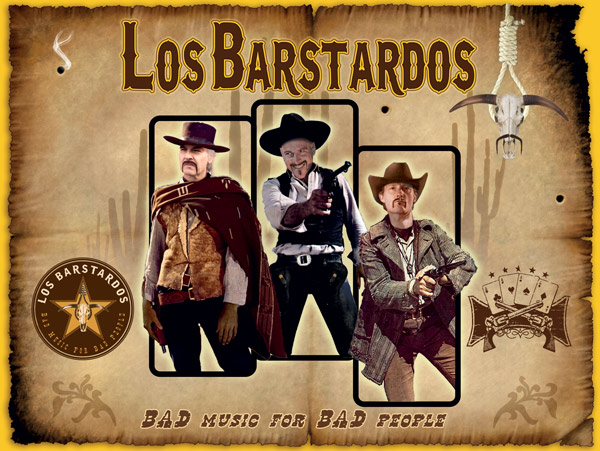 A Party Band With A Unique History
Tito (Guitar/Vocals) grew up in the southern USA and has played with international artists including Edgar Winter, Patrick Moraz, John Ondrasik and several other touring acts. 
As a session man based in Los Angeles, he has played on many albums, commercial jingles and national campaigns.   As a sideman he has appeared on many albums, tours and live dates.  
Tito has performed live on stage over 1000 times in 15 countries.
He brings his unique mix of HUMOR and TECHNIQUE to the Los Barstardos show to deliver a performance that combines authenticity and unpredictability.
A Los Barstardos show is like a guided tour through the history of Rock & Roll!

Our band members have performed onstage in the following countries:

Plus...
LOTS OF SURPRISES!